All PRINT INDONESIA 2017, in Jakarta, our encouragement to printers to move forward.
CYBER participated in ALL PRINT INDONESIA 2017 in Jakarta, from November 1 to 4, 2017. Our world renowned RMGT 9 series, the 920ST-4+LED-UV was exhibited. Live demo were performed, visitors were convinced on the amazing quality print produced, INSTANT DRY and ease of operation with our latest LED-UV Printing System. Also exhibited was the 524GX-A, to meet the high quality A3 plus landscape format demand in Indonesian market.
Once again, RMGT offset press is the only one in the show. Printers appreciate Cyber and RMGT aggressive and consistent effort to bring the latest technology to the Indonesian printers.
LED-UV Printing System was introduced about a decade ago, well accepted by printers around the world, the system is a must for today's printing system. Cyber has proven in this show the progress made by RMGT in this field during this decade. Visitors expressed their satisfaction and are convinced on its simplicity, efficiency and speed, told us that LED-UV Printing System has to be included in their next investment.
The 920ST-4+LED-UV was sold during the show, confirmed Cyber's participation in the show was right, to help printers to move forward in a very challenging business.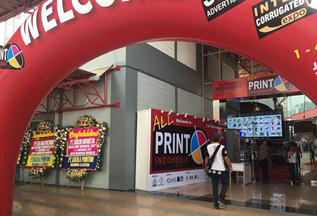 ALL PRINT INDONESIA Entrance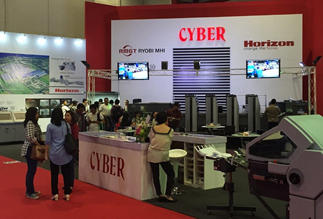 CYBER's booth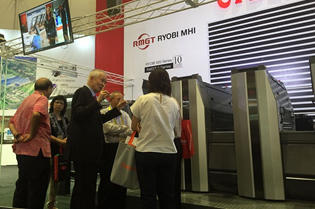 CYBER's booth at different angle