IPEX 2017 and Open House at 1050TP-9+coating unit customer in U.K.
Thanks to the cooperation from our U.K. distributor Apex Digital Graphics and M Partners Limited, we have got great attraction mainly for our major products RMGT 9 and RMGT 10 through the important and successful events IPEX 2017 and Open House at PRECISION COLOUR PRINTING LTD [User of RMGT 1050TP-9 (5/4)+coating unit].
At IPEX 2017
from October 31st (Tue)-November 3rd (Fri), with the big cooperation of APEX, we have had successful show by exhibiting the 920PF-8+LED-UV. This has again strengthened our continued promotions for the people friendly and low cost of ownership flagship model, 920 perfecting press with LED UV curing units.
Through the live demonstrations of the 920PF-8+LED-UV, visitors witnessed the high-quality jobs with the quick make-ready and job changes including the performance of the simultaneous plate changer and the quick UV ink drying by using LED-UV curing units.
The show already made the actual contracts with prospects and moved many of the projects' progress for both in U.K. and other countries.
Especially under the current tough graphic market situation, we re-confirmed that it is very much important to keep appealing our presence by using various opportunities like the exhibitions and open houses.
APEX's showroom press 920ST-4+LED-UV also has been sold, and next brand-new showroom press (same model) is to be shipped from Japan this month. APEX is kindly continuously willing to welcome demo requests from any of other countries.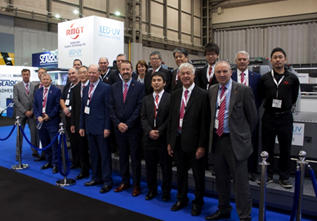 APEX and RMGT team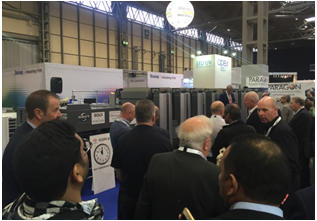 APEX's booth
At Open House at PRECISION COLOUR PRINTING LTD (PCP),
27 peoples from 15 different countries have spent much valuable and fruitful time. PCP is one of the top magazine printers in U.K. and in the huge factories (the area of 13.5 acres or 54,632 sq metres), they have 7 offset presses, prepress, bindery and mailing.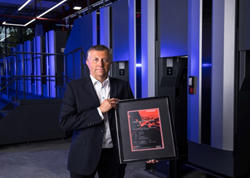 And the latest installation is the RMGT 1050TP-9 (5/4) +coating unit, invested in order to increase special magazine covers, commercial sheet fed and packaging sectors.
The press has started operation from September, 2017, after the very much smooth & quick installation processes. Since then, the customer is very much happy with the high productivity and very stable performance of the press.
Also, by the great support of M Partners Limited, PCP has kindly agreed to be a demo site for all the RMGT distributors, users and prospects.PCP already set a special welcome room for such visitors in their facility.
The high-performance press, very much clean and well organized factory, testimonial from PCP and the most welcome atmosphere should be helpful for your seeing a demonstration of RMGT 10 series.