Ryobi leads the world in die casting manufacturing and supplies a wide range of products, for the automobile industry.
Aluminum die castings are light, durable and offer superior recyclability. These products help to make automobiles lighter and have contributed to a circular economy as an effective technology for the protection of the environment, including the conservation of energy and resources. Based on its technological expertise and experience accumulated over many years, Ryobi uses its collective strength and corporate agility to supply high-quality die castings, mainly to the automobile industry. In responding to diversifying needs, we continue to explore new die casting frontiers.
World-Leading Die Casting Manufacturer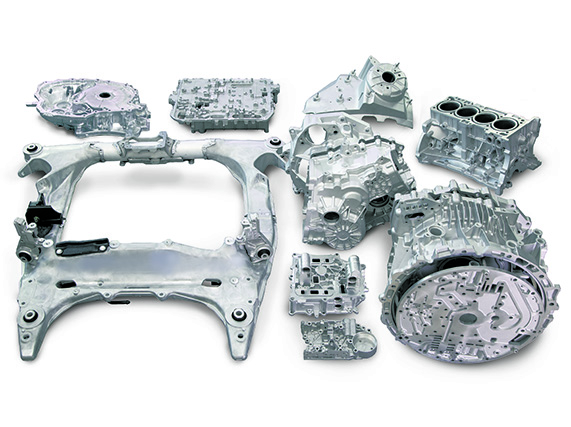 Ryobi die castings have been instrumental in making automobiles lighter. Thanks to the provision of an extensive range of die-cast auto parts, such as cylinder blocks, transmission cases, subframes and other chassis parts, and electric car parts, Ryobi is highly acclaimed for its technological strength and quality by automobile manufacturers around the world. As one of the world's top-class die casting manufacturers, Ryobi is meeting global needs for lighter automobiles.
Vertical Integration and Quick Response:
Quality Assurance in Conformity with International Standards (ISO)
Ryobi is able to accurately respond to customer demands in a prompt and speedy manner as a result of its vertically integrated system, long-established technological expertise, collective strength and corporate agility. Quality management and quality assurance systems, which have been certified as conforming to both ISO 9001 international standards and automotive industry-specific IATF 16949 standards, serve to strengthen and enrich quality control aspects.
Toward Lighter, Higher Quality Die Cast Products
and Adaption to the Widespread Use of Electric Vehicles
The superior properties of aluminum and magnesium alloys are fueling growth in die casting applications. We are undertaking the development of innovative technologies and new manufacturing methods from every conceivable angle in response to demand for further weight reduction, higher quality and improved compatibility with electric vehicles.
Constructive Technical Proposals from Closer Cooperation with Customers
As one aspect of "concurrent engineering," we have dispatched engineers to some customer locations to provide technological proposals from the development stage, which supports our customers' product development. In addition, our analysis technologies, including CAE-based structural analysis as well as metal flow and solidification analyses, help to optimize product geometries. In CAD/CAM systems, we are actively promoting 3-D systems, and are working to reduce die development and fabrication times.
Main Customers
Ryobi is able to meet demand for die cast products from its customers around the world.
AISIN CORPORATION
Daihatsu Motor Co., Ltd.
Ford Motor Company
General Motors Company
Hino Motors, Ltd.
Honda Motor Co., Ltd.
Hyundai Motor Company
Isuzu Motors Limited
JATCO Ltd
Mazda Motor Corporation
Mitsubishi Motors Corporation
Nissan Motor Co., Ltd.
Stellantis N.V.
Subaru Corporation
Suzuki Motor Corporation
Toyota Motor Corporation
Volkswagen Group
etc.,