RMGT 9 - A1-Size Offset Presses
940 model
(Max. sheet width : 940 mm)
RMGT 9 - A1-Size Offset Presses
920 model
(Max. sheet width : 920 mm)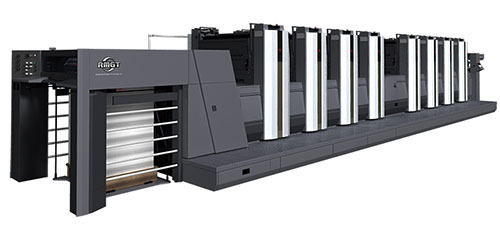 The RMGT 9 series of A1-size offset presses enable high-performance 8-up printing of A4-size. Two model types are available, 940 models with a maximum sheet width of 940 mm, and 920 models with a maximum sheet width of 920 mm. Exceptional features such as a high printing speed of 16,200 S.P.H.* and high printing quality make these presses ideal for printing companies seeking lower costs, high quality, and high productivity.
Capable of 8-up printing of international A4 size or letter size
Significantly lower printing plate costs, power consumption, and space requirements than a B1-size press
Installation of one LED-UV (or UV) curing unit over the perfecting device and another over the delivery section enables one-pass instant-curing perfecting (920 models only)
Inline coating system adds value to printed work
Many of the same features as the flagship RMGT 10, including state-of-the-art sheet transfer technology and a function for quickly and easily checking the roller nip
Newly developed press information display with a large 55-inch screen enables the operator to easily monitor printing quality and operating status in real time from the delivery section (option)
Feeder air presets accurately preset the air volume for the type of paper.
Parallel processing of blanket cleaning and preset inking (ink feeding) reduces make-ready time during job change over (for the press with Smart Make Ready function).
Specifications
940 model
| Model | ST (straight press) |
| --- | --- |
| Max. printing speed | 15,000 S.P.H. |
| Max. sheet size | 640 x 940 mm |
| Min. sheet size | 290 x 410 mm |
| Max. printing area | 615 x 930 mm |
| Paper thickness | 0.04 - 0.6 mm |
920 model
Design and specifications are subject to change without notice.
This data was obtained under RMGT's standard test conditions. Results will vary according to the operating conditions.
Model
St (straight press)
PF (convertible perfector)
Max. printing speed
16,200 S.P.H.
13,000 S.P.H.
Max. sheet size
640 x 920 mm
Straight printing: 640 x 920 mm
Perfecting: 635 x 920 mm
Min. sheet size
290 x 410 mm
Straight printing: 290 x 410 mm
Perfecting: 370 x 410 mm
Max. printing area
615 x 900 mm
Paper thickness
0.04 - 0.6 mm
0.04 - 0.4 mm