Successful exhibition of CyberSM (Thai) in Thai Pack Print 2017 and open house at Pimdee Co., Limited.
6th Thai Pack Print 2017 printing exhibition took place from 20th to 23rd of September 2017 at BITEC exhibition hall in Bangkok. The organizer said this time is busiest than ever and successful exhibition. Since printing industry worldwide is in difficult situation including Thailand, everybody try to find the way to survive and visited Thai Pack Print 2017. The visitors include from Myanmar, Laos, India, Middle East countries and others.
RMGT's distributor Cyber SM (Thai) Co., Ltd. participated with two stories booth with big model of side frame of RMGT press which made visitors find the booth very easily. During 4days exhibition periods, Cyber SM received many visitors and customers.
All press manufacturers and its distributors did not show any printing press, but Cyber SM promoted LED-UV printing with the model of LED-UV dryer, printed samples and with the cooperation of LED-UV ink supplier. Mr. Songsith Hovijit Managing Director said "The exhibition was very much successful and we could show the position of pioneer of advanced printing with LED-UV system. We got the order of 2 sets of RMGT 520GX with coater from one big packaging printing company during the exhibition and also we got several new prospects during show. "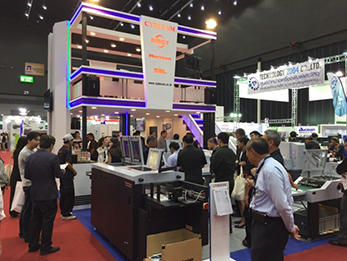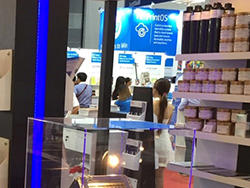 RMGT 940ST-4+LED-UV, the first LED-UV printing press was installed in Thailand and started printing at Pimdee Co., Limited.
In Bangkok, on 27th and 28th September, Cyber SM organized open house at Pimdee company and invited more than 70 customers. After presentation of LED-UV printing, all visitors saw the advantages of instant dry, high print quality and quick turnaround time.
We hope successful open house at Pimdee company and successful Thai Pack Print 2017 bring us big opportunity to broaden the presses with LED-UV in Thailand.
2nd LED-UV with 920ST-6+CC+SLD is scheduled to deliver to Thailand in December 2017.