Aiming to realize innovation through technological integration
High-speed perfecting
The Tandem Perfector enables double-sided printing in a single pass without tumbling the sheet. Its unique arrangement reduces fan-out to ensure highly accurate front and back registration comparable to straight printing presses. This press is capable of perfecting at up to 16,200 sheets per hour, greatly improving productivity.
Fully automatic simultaneous plate changing
The SimulChanger achieves extremely short makeready times with plate changing that takes only 75 seconds. Everything from cylinder phase adjustment to plate removal and mounting is performed simultaneously on all units, enabling a high operating rate, even for small-lot printing requiring frequent job changes.
Instant drying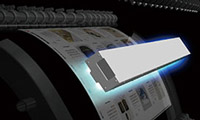 Energy-conserving, long-life LED-UV printing system achieves high operating efficiency with LEDs that turn on and off instantly. Low-heat LEDs reduce heat-related shrinkage of printing media, making them ideal for printing with resin film.
Digital printing
Designed for the age of digital printing, the RYOBI DP760 B2-size liquid toner type digital printing offset press offers fast, reliable printing for ultra-small jobs. With a top-in-class printing speed of 6,000 sheets per hour, this press is appropriate for a wide range of jobs, from general commercial printing to packaging printing. (Under development)
Digital workflow
Our systems enable the construction of CIP4-JDF-compatible digital workflows. This promotes operational management across the entire printing process by closely linking printing presses and management information systems (MIS).
Color and registration adjustment
The intuitive touch-screen controls of the Color Navigator allow easy color-matching and registration adjustment, regardless of operator skill level.
Holographic coating and foiling
Holographic coating and foiling can be performed on a single press with UV casting and foiling systems. Film patterns are transferred to the varnish coating, enabling enormous variety in holographic coating. Foiling employs a cold stamping method using directly applied varnish. Holographic coating and foiling are ideal for creating high-value-added book covers and packaging.
SAT SYSTEM
Achieves the world's first printing on insert molding film using a waterless LED-UV offset press. Fuses the advantages of screen printing, offset printing, waterless printing and LED-UV printing to achieve high-quality print representation, short lead times and mass production capability of molding film used in three-dimensional automobile interior materials and household appliance parts.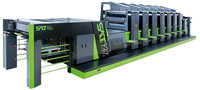 Note: Not all of the technologies shown here are available with all of the printing presses offered by RYOBI MHI Graphic Technology Ltd. For information about standard and optional features available for each model, please refer to the individual product catalogs.