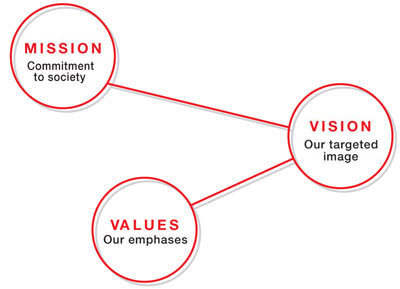 Mission—Commitment to society
RMGT will apply its extensive expressive capabilities to contribute to the creation of a prosperous and colorful (IRODORI) society.
Vision—Our targeted image
RMGT aims to become a company that grows in tandem by harnessing the collective technical and creative capabilities of both companies.
Values—Our emphases
∙Striving constantly to bring innovations from within
∙Building trustworthy relationships
∙Respecting different sets of values
Corporate Message

Printed materials bring a vibrant, colorful world into people's lives. These capabilities can also capture the contrasting densities of wabi-sabi found in Japanese art.

A world where people are prosperous, relaxed and invigorated with enjoyment, fun and happiness is expressed as "IRODORI (color)" and contributes to the creation of a colorful society.