Contributes to "visualization" and "analysis" of printing operations
RMGT's press information cloud is a management tool that uses IoT technology to enable "visualization" of printing operations to help printing companies increase their productivity. By connecting the presses in a print shop via a network, the press information cloud gathers data on press operating conditions for central management and analysis in order to identify parameters for improving printing processes.
Error history tracking also makes it possible to identify the causes of any problems.
RMGT's press information cloud thus provides powerful support for visualizing and optimizing printing processes.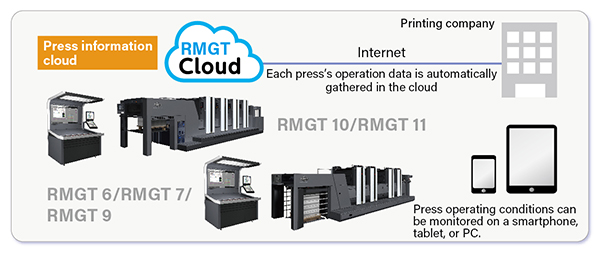 Features of the Press Information Cloud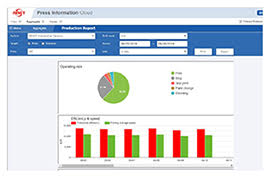 Customers can receive the following services for their presses through the press information cloud.
Visualization of press operating conditions and traceability management
Display of press operating conditions
Display of paper waste data, "A" efficiency, "C" efficiency, daily reports, and other production data
Display of press consumables replacement schedule, cleaning and lubrication history, and other maintenance data
Automatic notification of timing for replacing consumables and performing maintenance
Display of press error history data
Provision of server maintenance and upgrading information, etc.
From commercial printing to package printing, a high-precision inline camera inspects printed sheets with superior reliability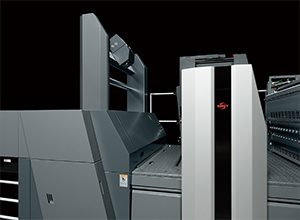 The PQS-D employs a CCD camera installed on the press for inline quality control of printed sheets, eliminating the need to sample sheets. Defective sheets are automatically sorted out, enhancing quality assurance and further automating printing.
The PQS-D system's basic quality inspection function can be expanded to include a printing density tracking function and an automatic register adjustment function to meet specific needs. The multifunction PQS-D system lets you perform 3 key functions inline on a single press.
PQS-D Printing Quality Control Workflow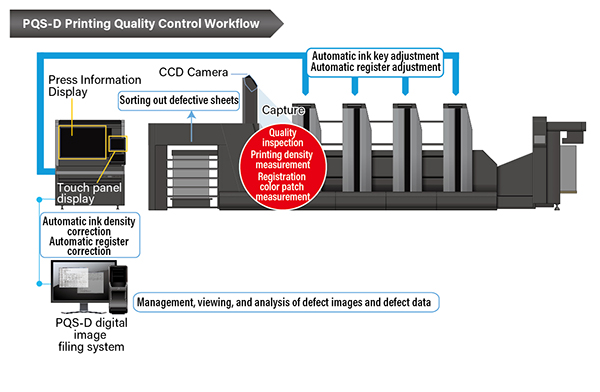 Automated guided vehicle Nipper
The Nipper is a compact automated vehicle for unmanned internal pallet transport in printing factory. Nipper moves in the printing press for supplying paper pile to feeder and removing printed sheets pile from delivery to transport it to postpress section.
Installation and connection of roller conveyor to press are not needed, so factory layout and transport line can be flexibly changed.
Waste time between production process is eliminated, greatly reducing operator's labor for paper transport work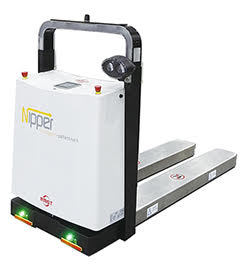 Features of Nipper
Employing a pallet transport system, many kinds of existing pallet can be used. (There may be a pallet that is not available with Nipper.)
Easy self-programming
Navigation root can be programmed by yourself at any time.
So daily improvements of navigation root is possible.
Load capacity is 1,000 kg.
Specifications
Dimensions/Weight
(W)673.2 x (D)1,611×(H)699mm/200kg
Load capacity
1t(1,000kg)
Lifting height
Adjustable up to max. 223 mm
Safety devices
Laser scanner (recognition of obstacles and carrying material)
Emergency stop bumper and emergency stop button
Conform to CE standard
Driving technology
Autonomous Navigation Technology
(driving root self mapping system)
Driving function
Forward, backward, turning
Driving speed
Maximum 3.6km/h (1m/sec.)
Continuous driving time
5 hours