RMGT applies advanced technologies, working with customers to create high-quality printed materials with high added value.
High productivity and Quality management
LED-UV printing system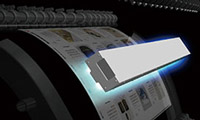 Energy-conserving, long-life LED-UV printing system achieves high operating efficiency with LEDs that turn on and off instantly. Low-heat LEDs reduce heat-related shrinkage of printing media, making them ideal for printing with resin film.
Tandem Perfector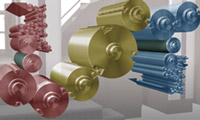 The Tandem Perfector enables double-sided printing in a single pass without tumbling the sheet. Its unique arrangement reduces fan-out to ensure highly accurate front and back registration comparable to straight printing presses. This press is capable of perfecting at up to 16,200 sheets per hour*, greatly improving productivity.
* For RMGT 10
Double Delivery
The inline quality control system inspects printed sheets during printing, and automatically discharges any defective sheets to the reject delivery, eliminating the need to sort out defective sheets after printing finishes.

Automatic non-stop feeder and delivery shutter
An automatic non-stop feeder and delivery shutter greatly enhance efficiency and productivity for continuous printing on heavy stock by continuously feeding sheets and eliminating the need to stop printing when changing the pile.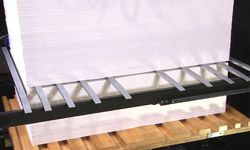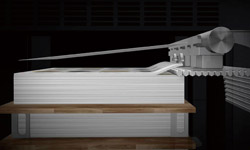 Skeleton transfer cylinder
A skeleton transfer cylinder has no cylinder surface to touch the image area, preventing scratches during paper transfer. Three air management mechanisms-- an air blower before the impression cylinder, an air chamber and a venturi system --ensure reliable sheet transfer for wide range jobs of paper thicknesses.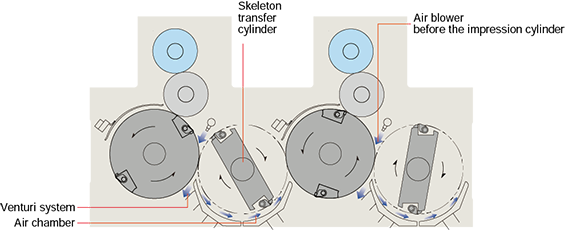 Automation and Labor-saving
PQS-D (I+C+R) Printing Quality Control System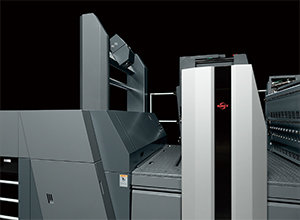 Press operation by less experienced operators is achieved thanks to a quality inspection function (I) that detects hickeys, smudges and other defects, a printing density tracking function (C) that manages printing density using captured color bar images, and an automatic register adjustment function (R) that automatically adjusts the registration by reading the registration marks.
Smart Assist Printing
Smart Assist Printing enables nonstop printing of multiple jobs at the touch of an onscreen button, automatically performing a series of printing processes from ink presetting, blanket cleaning and plate changing to test printing, register adjustment, density adjustment and production printing.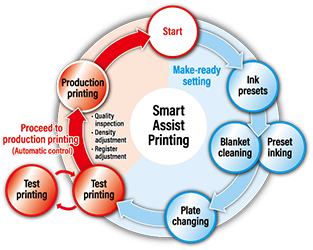 Press Information Edge
Printing jobs are automatically sorted into the optimum order according to sheet size, thickness, and other printing conditions, reducing the amount of time required for tasks such as changing the paper and colors during job changeover.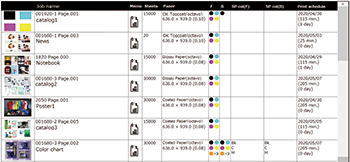 Maintenance
Maintenance Mode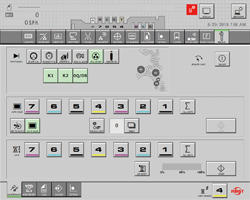 The Maintenance Mode markedly reduces the amount of work required to check and adjust the roller nip, which is essential to ensure consistent printing quality. It includes a variety of automatic functions for supporting nip width adjustment, including automatic printing of nip width samples and cueing of the nip adjustment position.