IGAS 2018 Report (1) Automation of multiple printing jobs and short turn-around jobs with RMGT 10 series
IGAS 2018 has just started on July 26th.
We, RMGT are welcoming visitors and audiences at No.6-1, East Hall 6.
Upon the opening time at 11:00a.m., a lot of visitors rushed to come to the site. Thank you very much for visiting us RMGT booth.

We would like to report the printing demonstration of one of RMGT's flag-ship models, RMGT 10, B1 size format 6-color, 1050LX-6+CC+LED-UV+2LD.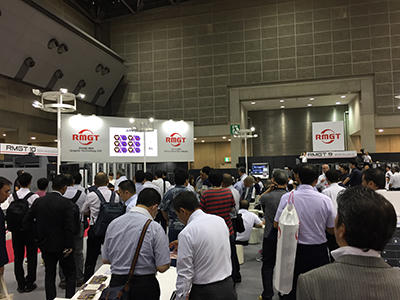 Bunch of visitors at RMGT booth
This is the world-first innovative LED-UV system introduced in 2008.
Relieved from printing problems with splashed powders and ink drying time, the productivity has been extremely improved by "Instant Dry Revolution" in the commercial printing industry.
In this opportunity, IGAS 2018 shows you the performance of Quick Dry Innovation with Special packaging category.

The 1st job is a chemical-embossing printing with LED-UV. Process CMYK 4-color with OP varnish and Coater varnished products are printed to designate drip-off effect, chemical embossed image with 0.45mm thickness board sheet covered by varnish. After quick job changeover from the 1st job utilizing retractable coating unit, featuring simultaneous parallel make-ready, on the 2nd job, a high speed printing is performed at the maximum 16,200sph, printing production speed with 0.34mm, processing CMYK 4-color with specialized color + OP varnish. Different types of LED-UV printing modes are presented.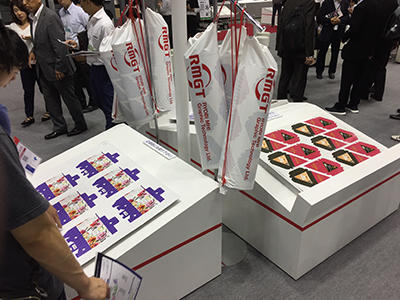 The right photo shows the 1st job with chemical embossing image and the left photo shows 0.34mm thickness substrate at 16,200sph maximum printing speed.
The futuristic factory as [Sheet feeding by automatic transport robot=Automated Guided Vehicle] is featured. The sheet pile stacked on the feeder section is lifted by the transport robot which is capable for max. load weight by 1,000kg. The table descended and it rotated the angle 90 degree, such combined motions are repeatedly processed, and the sheet feeding is completed to be set with RMGT 10 model.
High precision operation starts printing without manual handling.
[Collaborative robot-to-robot without operational workload] This demonstration gives us a great expectation for a new era of the printing industry. Please closely take a look at the footage here.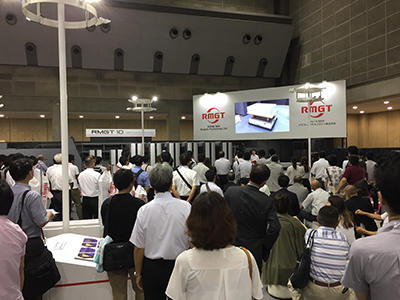 A customer who is stuck on the large display showing automatic transport robot, AGV=automated guided vehicle
Collaborative Robot-to-robot handed over without operational workload
The highest and the most critical quality control is required for packaging printing, which can't allow to make any piece of defected and troubled sheet even among 10,000 sheets.
Every sheet with one and other is under special quality check by PQS-D(I), using CCD camera accommodated on top of the printing press without operator's sense and handling.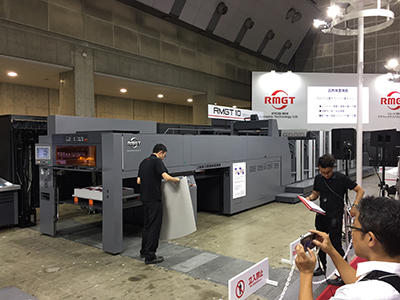 Defected sheets are divided, rejected and withdrawn on double delivery sections