IGAS 2018 Report (3) - Collaborating with the partners.
RMGT brings this corporate message to our customers and the printing industry in consideration of importance of partnership with distributors and contracted suppliers.
Our collaboration partners' exhibition corner stands and shows our sincere gratitude and appreciation in the RMGT booth.

We realized a collaboration plan with a local "Miso (Soya beans) soup" fermented products supplier named "Asano Miso Co., Ltd.", place of which is the same local city in Western Japan where RMGT's headquarter and factory is located.

Asano Miso, its specially designated frozen-dried Miso soup is packed in very unique package, which is designed with chemical embossing print effect, and it is printed by a printing company who owns the press with mostly identical configuration in the RMGT 1020LX-6+CC+LED-UV exhibited in the booth.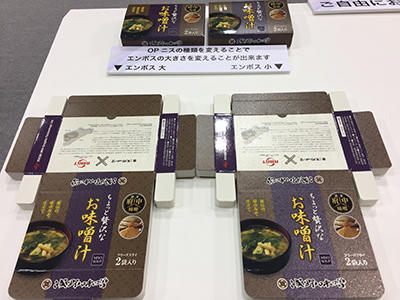 Printed sample comparison between small sized chemical embossing design and large sized ones
This is a tissue paper box printed by the printing company who has RMGT 1020LX-6+CC+LED-UV. The package inside is very uniquely produced. When you put tissue packs in it, a plate comes up to hold it. It is the only one specially designated in the exhibition.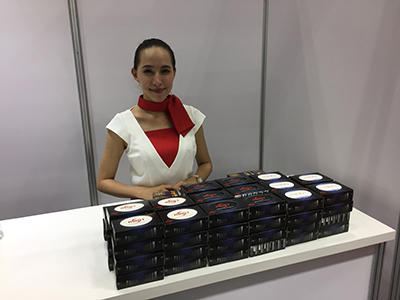 Tissue boxes with LED-UV printing being prepared
This is printed samples printed by RMGT 920PF-8+CC+ LED-UV featuring coater varnish process in the user and it is designed with chemical embossing combined with pearl coating OP varnish.
Many visitors were asking how to process gloss and quality finish appeared on lady's skin and manicure.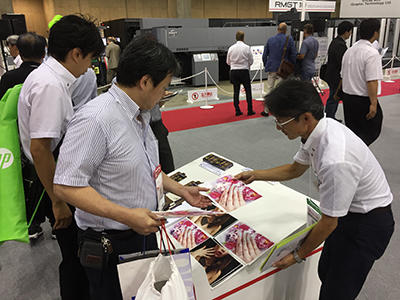 Attracting interests with LED-UV printing chemical embossing and pearl varnish
Varnish and ink technology applicable to LED-UV printing are extremely evolved.
There are variety of printed samples used with, such as, OP varnish, coater varnish, chemical embossing effect, pearl, fluorescent, neutral color tone and wide tone color rendering inks, etc., and shown off brand-new technology and performance by LED-UV ink and varnish combinations.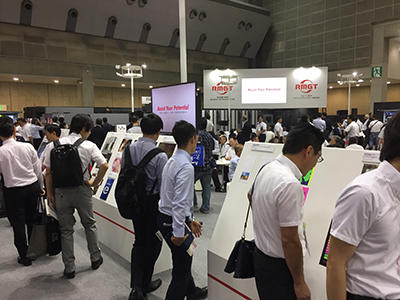 LED-UV printing samples corner representing brand-new trends of LED-UV ink and varnish
There is the special corner of collaboration partners of ink suppliers, plate suppliers who help printing demonstrations. Ink & varnish applicable and well-matched with LED-UV printing and environmentally friendly conscious non-processed plates are concentrated in the corner showing every supplier's features.
Collaboration partners' corner with ink supplier 4 companies and non-processed plates supplier, 2 companies