IGAS 2018 Report(4) Instant drying printing by LED-UV handling envelope with "Robots collaborative With human"
We, RMGT, have full range line-up of printing machines applying from A3 size sheet format to extra large 44 inches (B1+) sheet width size format. In IGAS 2018, we exhibit LED-UV offset presses, as B1 size format RMGT 1050LX-6, A1 size format RMGT 920PF-8, and A3 size format with vertical feeding RMGT 340HA-4 "with LED-UV"(**1) which is the dedicated model to the Japan domestic market only, and as well as B2 size format ink jet digital press RMGT JP750. (**1 remark: "340HA-4 with LED-UV" is only available to be sold in Japan market territory and not sellable in overseas territories.)

RMGT is the sole press manufacturer which can produce and provide with A3 format press with universal feeder which can vertically feed in Japan. As the purpose of exhibition of A3 size format press, it can handle "envelope" print with RMGT 340HA-4+LED-UV.
Accommodating LED-UV system, it enables to process 4 colors with instant dry printing. The special feeder helps to feed every single envelope very stably, and also the delivery section withdraw the printed materials very smoothly. It realizes very efficient envelope printing.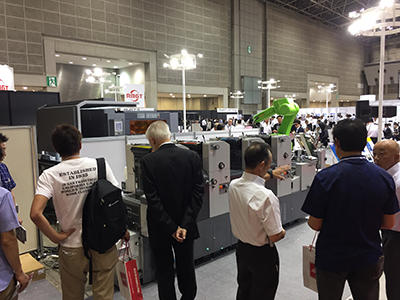 RMGT 340HA-4+LED-UV with many visitors
There are many visitors and customers who produce such special stationary substrates like envelopes. Such different size and formed envelope like square shaped and rectangular (vertical portrait length) envelopes are printed by daily changing. The former is processed in 4 colors with line-ups of RMGT presses and the latter is processed by changing it onto special color with Magenta (neutral-toned), and it creates to show the beautiful shot at a place in Europe in city lights and sunset.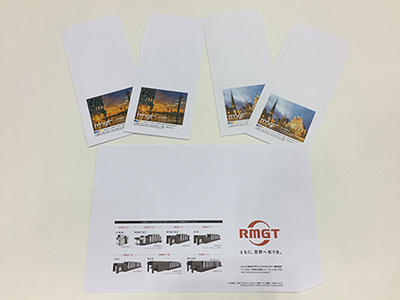 Envelope designed the one with "neutral tone color" combined "CYK2 processed and the other with 4-color processed envelope
A collaborative robot which manufactured by "Fanuc Corporation" continuously transport packed boxes while an operator keeps to pack them in. It enables to load materials up to Max. 35kg weight, as the world-first releasing.
When attaching special suction hands like this way, it can lift and be loaded with Max. 20kg fluted cardboard.

A senior person of customer who visited RMGT booth said "There is no one who can handle and transport such heavy materials loaded over 15kg in these days!"

Typical way of robot system needs to have safety fence and guard to protect worker, however, such collaborative robot can allow workers even to work together in safe operational environment.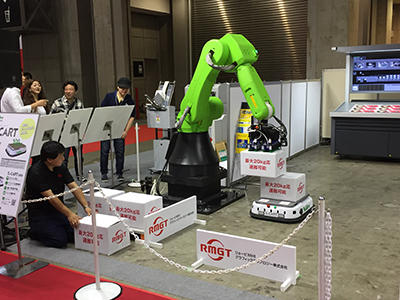 Collaborative robot handles and transports printed materials just side of operator on to Automated guided vehicle, AGV
Automated guided vehicle which is manufactured by "Nidec-Shimpo Corporation" runs and transports two carton boxes just on right side of the press RMGT 10.
As a reality in a printing factory, it is operated while being unmanned.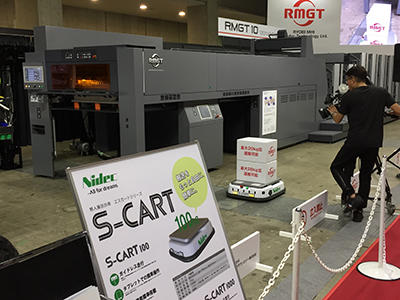 AGV, automated guided vehicle runs 20 meters transporting carton box just right side of the press RMGT 10