Cyber held the New Year Show in 2020, in Petaling Jaya, Malaysia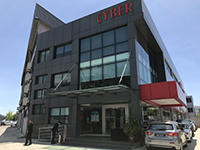 We are pleased to report that our distributor, Cyber Pte Ltd. (hereinafter referred to CYBER) held a new year show at their showroom situated in Petaling Jaya, Malaysia and it was successfully held from February 27th to 29th.

4 RMGT offset machines were exhibited 920PF 8+LED-UV with Smart FPC, 920ST 5+CC+SLD (925D), 524GX (a refurbished machine) and Ryobi 1050 4 (a refurbished machine) and various pre press and post press equipment.

Nearly 300 printers from Malaysia, Singapore, Thailand, Vietnam, Indonesia and Australia attended the three days event. Transport and accommodation were provided to the visitors from outside Malaysia.

The New Year Show was based on the theme, "Rediscovering The Joy of Printing" set by CYBER and the show was arranged in dividing into demonstration and seminar sessions.

During the demonstration, RMGT 920PF 8 Convertible Perfector with Smart FPC plus LED-UV was introduced as 2 possible usages. Firstly, to demonstrate fast make ready and productivity, by printing 3 sets of jobs printed both sides in 15 minutes, each job consisting of 500 sheets. Secondly was to utilize the RMGT 920PF 8 as "Straight machine", printing 7 colors straight in using standard process CMYK plus 3 special colors (Orange, Green, Violet) to express an expanded color gamut and covering a larger range of pantone colors. CYBER collaborated with the color management software company, CGS to implement their "ORIS X GAMUT" color management software for extended color gamut printing, further enhancing the flexibility of RMGT 920PF 8 machine.

The purpose of the demonstration is to introduce the efficiency and quality of the machine. The fast turn around with LED-UV system in convertible perfecting mode for 4 over 4 production, and expression of extended color gamut in straight mode attracted the visitors' interest. The visitors were totally convinced that the RMGT 920 series is the right machine for a profitable printing business.

During the seminar, RMGT presented the Smart Factory Solutions, which contains a vision of the printing company of the future, such as Collaborative Robots, Automated Guided Vehicle (AGV), AI/IoT, Cloud Network, Edge Computing, Remote maintenance and etc. RMGT also presented the concept of drupa 2020 briefly, based on the exhibit theme, "Assist Your Potential with Technological Expertise and Constant Innovation".

Cyber's staffs attended to visitors individually, answering questions and offered solutions on how to keep lean to be profitable to rediscover the joy of printing.

We strongly believe the event will lead customers to invest RMGT machine and connect the sales boost towards the world's largest printing exhibition, drupa 2020!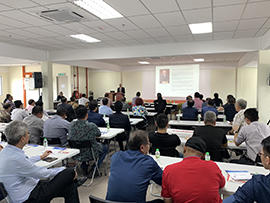 920PF-8 Live demonstration         Seminar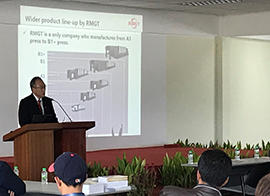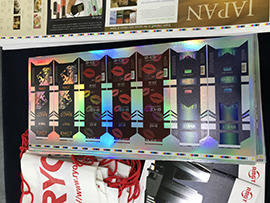 Welcome speech by Mr. Hirokawa,     Sample printed by 920ST-5+CC+SLD(925D) 
President of RMGT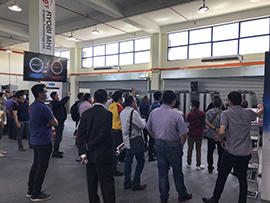 Sample printed by 920PF-8+LED-UV      Prosperity in the booth
(Straight 7 color mode)