Launching RMGT 1050LX series with advanced features at the Open house
We are glad to announce to you that we held the open house of the RMGT 1050LX series with new features at RMGT Fuchu Factory Showroom for the 3 consecutive days from October 27-29, 2021.

This 1050 LX series has been brushed up with the new features as mentioned below based on the current 1050 series which is compatibly versatile for a wide range of thicknesses, such as thick boards and thin substrates. The new features are various to be introduced, such as, the improvement of the feeder and the delivery capability which can more significantly promote the real higher printing production speed for packaging printing and the new equipment of the retractable coating unit which can be simultaneously operated for makeready during printing operation, and function to reduce makeready time, etc. We have performed the demo showing off significant improvements by the state-of-the-art advanced items to the visitors and attendees.

Mr. Hirokawa, President of RMGT, addressed a greeting of gratitude to the attendees as follows;
"It was a deep regret that we were forced to give up and cancel the opportunity of unveiling this model for everyone due to COVID-19 spread influence. Today, we are very happy to be here to hold this event with you. If you would have anything concerning and interested in this model, please feel free to see and ask our technical staff members standing by servicing.
We would be grateful and honored if you would appreciate our products and solutions. Our corporate policy expresses "Coloring the World Together", and we RMGT dedicate our business activities based on this spirit of ethos. We would like to sincerely strive and work very hard together to always be a precious partner for all of our customers in order to support your business and we would be very honored if you would keep choosing our products for the future."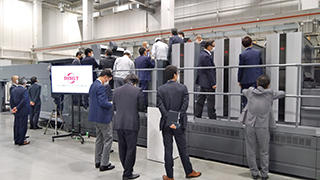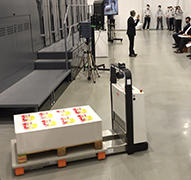 As a countermeasure of Covid-19 influence protection, limiting the number of attendees per occasion, those who had already been vaccinated attended it and the event was conducted for the 3 days as for the limited maximum numbers every time, and there were a lot of interests and concerns attracted to this packaging printing machine, and they enjoyed and experienced the ability.

To start with the press demo, our technical chief who is in charge of the product research and development explained about the new technologies and the new designs.
After the demo, the session of Q&A and on-site observation has been spent around the printing press, and the attendees closely looked into the details of the new model and very passionately asking technical members gave many questions, it was a greatly useful opportunity.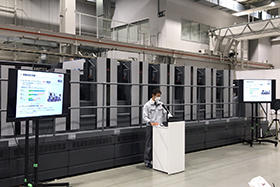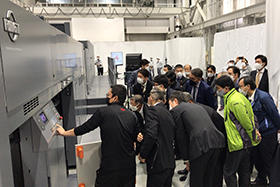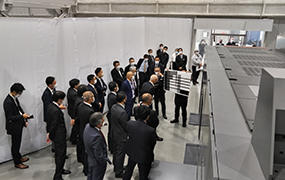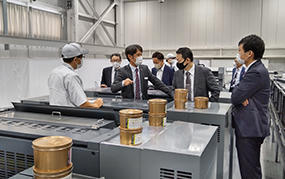 At the closing of the event, the factory production and assembling sites visit was carried out, and Mr. Takahashi, Vice President, addressed the attendees with great thanks as follows.

"Today's product, RMGT 1050LX series has been greatly brushed up and refined as the real packaging printing machine and we are very confident with these newly advanced items. We do sincerely hope that things you've seen today can be of great help to your printing business. We will continue to hold such opportunities to provide you with this information, and we are always with you being sure that our growth is realized thanks to all of our precious customers."

<Outline of the press demonstration>


   
    RMGT 1050LX-6+DU+CC+2LD+LED-UV+PQS-D
AGV (Auto Guided Vehicle)
     "Nipper"
[Demo's scenarios]
(1) Coating varnishes for packaging printing (Job changeover between G-flute and coated board)
The polygonal vacuum slowdown wheels at the delivery section and more advanced feeder section which enable smooth and high speed sheet transport , the delivery shutter which enables continuous seamless printing production unnecessary to replace sheet stocks, retractable coating unit which allows cleaning and makeready preparation on varnishing unit during printing operation, etc., those various functions which can help improving packaging production are introduced through the demo.

<1st JOB>
The ink supplier, T&K TOKA, provides RMGT with LED-UV ink and LED-UV varnish.
The 1st job was hobby packages using G-flute materials with 4 processed colors with over-print varnish and varnish on tower coater in order to produce chemical embossing.

<2nd JOB>
Changeover printing jobs without changing blankets, mouse package using coated board materials were printed with 4 processed colors with special color ink (drip-off effect) with varnish on tower coater to produce chemical embossing. The high printability and productivity were performed and experienced.

(2) Automated Guided Vehicle Robot (AGV) Nipper and automatic transport to the post-press process
An operator uses a tablet PC and sends orders to the robot.
When the robot receives them, it moves to the press delivery section and stands by.
Finished printing jobs, the robot which received orders via the tablet PC, and the advanced sensor can automatically detect the pallet in the delivery section and transport printed materials.

The demo was successfully performed well to advocate how these new devices efficiently work and support printing processes very easily.