Successful Printing on Film for In-mold Decoration
Using a Waterless LED-UV Offset Press
This product is for domestic market only, and there is no plan to sell it for overseas at this moment.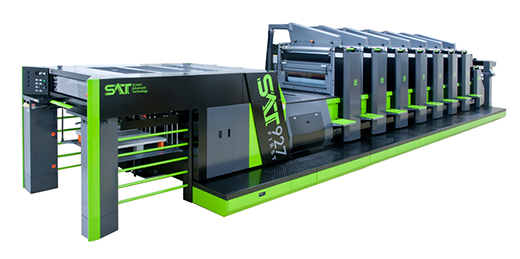 RYOBI MHI Graphic Technology Ltd. (President: Yuzuru Ichimasa) and Mino Group Co., Ltd. (C.E.O.: Shin-ichi Nagase) have succeeded in printing on insert molding film using a waterless LED-UV offset printing press for the first time in the world.
While screen printing features excellent opacity to achieve a high contrast ratio plus durability and weather resistance, offset printing offers the advantages of short lead times, mass production capability, and detailed high-quality printing with excellent image reproducibility.
Screen printing is normally used to print a image on the decorative film used for in-mold decoration (IMD), a method used to manufacture motor vehicle interior materials with 3-dimensional shapes, parts for household appliances, etc. In recent years there has been a growing demand in this field for shorter lead times, better mass production capability and higher quality printing. To meet these needs, RYOBI MHI Graphic Technology, Mino Group, and Yamato-grand Co., Ltd. (President: Shingo Kawai) have been collaborating on a joint development project over the past 8 years.
Now, RYOBI MHI Graphic Technology has succeeded in developing a special offset press employing a waterless printing method, essential for the stable production of industrial products, and Mino Group has successfully developed a special ink with enhanced extensibility and heat resistance. The first press developed has been installed on a premise of Yamato-grand, and Yamato-grand has been developing the printing technology. The plates for waterless printing are supplied by Toray Industries Inc., and the LED-UV curing system is supplied by Panasonic Industrial Devices SUNX. This new system has been named "SAT SYSTEM" (an abbreviation of Screen Advanced Technology) to express the achievement of screen printing's functions and diversity through offset printing.
Rather than competing directly with conventional offset printing, screen printing or other printing methods, SAT SYSTEM is a completely new printing system that opens up a totally new market.
The main specifications of the initial development model (owned by Yamato-grand Co., Ltd.) are as follows.
| Item | Specification |
| --- | --- |
| Printing method | Waterless offset printing for SAT SYSTEM |
| Ink to be used | Special ink for SAT SYSTEM |
| Printing plate | Toray waterless plate |
| Curing device | LED-UV curing device |
| Printing speed | 500 to 8,000 sheets per hour |
| Maximum sheet size | 920 x 640 mm |
| Minimum sheet size | 410 x 290 mm |
| Maximum printing area | 900 x 615 mm |
| Sheet thickness | 0.04 to 0.6 mm |