The New RMGT Brand
the New Brand, the New Style
A totally revamped design and lineup
A new design was introduced for the totally revamped product lineup, which combines the strengths of the former Ryobi Limited and Mitsubishi Heavy Industries Printing and Packing Machinery, Ltd.

The new design emphasizes the safety, simplicity, and easy operation of RMGT's high-performance, advanced function presses. Sharp styling expresses innovation and precision. Integration of advanced technology and superior functionality enhances performance.
The new brand lineup — from 1,130 mm to A3-size portrait format
RMGT 11 (1,130 mm format)

RMGT 10 (1,020/1,050 mm format)



RMGT 6 (A2-plus size)

RMGT 5 (A3-plus size)

RMGT 3 (A3-size portrait format)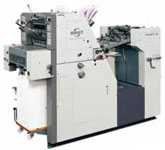 * The time to switch to one of the new brand presses varies by model.
For details, contact an RMGT sales representative.